Travel to Dominica by Plane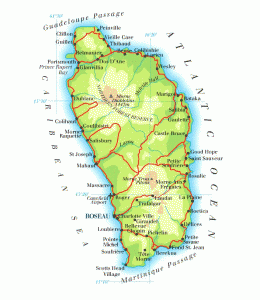 Most international flights arrive at Melville International Airport (DOM), but Canefield International Airport (DCF) receives a steady number of flights as well. Canefield is near the capital Roseau while Melville is about an hour north.
There are no direct flights from North America or Europe so you have to switch planes on one of the other Caribbean islands. Airlines serving Dominica are Leeward Islands Air Transport (LIAT) and American Eagle.
Destinations are mostly within the Caribbean region, with hubs at Antigua and Barbados for example, although Dominica also has flights from the neighbouring islands of Guadeloupe and Martinique which is your best bet when flying from Europe.
Traveling to Dominica by Boat?
Dominica – Guadeloupe
L'Express des Iles operates 3 weekly services between the islands of Dominica and Guadeloupe. They leave Roseau, the capital of Dominica on Mondays, Thursdays and Saturdays at 3pm (Sat. 1pm) and take about 2.5 hours. In the opposite direction, they leave the capital Point-a-Pitre in Guadeloupe at Wednesdays, Fridays and Sundays at 8am (Sundays 10am) and take under 2 hours. Brudey Freres (french only) has services as well between the two islands on Mondays only (one in low season, two in high season).
Dominica – Martinique
L'Express des Iles has 3 weekly services between Dominica and Martinique at 10.15am Wednesdays and Fridays and 12.15pm on Sundays, travelling between the capitals Roseau and Fort-de-France. From Martinique they leave on Mondays at 1pm and Saturdays at 11.30 am. It takes about 1,5 hours in both directions. Brudey Freres (french only) has services as well between the two islands.