National Wear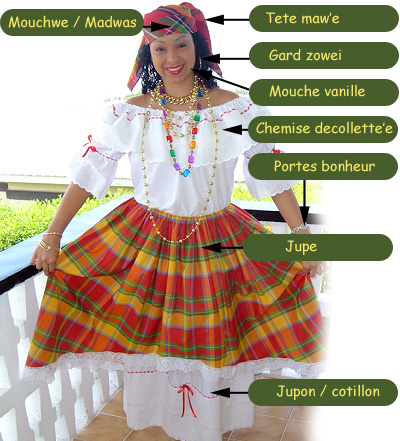 The National wear of Dominica
The Wob Dwiyet dress (creole, from the French 'robe douiette') is part of Dominica's national costume,and is a national symbol of Dominica. It gives rise to the annual Miss Wob Dwiyet competition which is part of our Independence celebrations . The competition highlights both our national costume and the talents of our young people.
Creole Day in Dominica
Every year, Independence has the following highlights:
Heritage Day – Late October, Held in a different village every year, this day celebrates our cultural heritage.
Jounen Kweyol (Creole Day) – Late October. On this day islandwide people speak creole and wear the national dress.
Miss and Madam Wob Dwiyet shows – Arawak House of Culture, Roseau. These two shows highlight the talents of young and old.
Market Day With A Difference – Roseau Market, Saturday prior to Independence. Colourful at the best of times, the Market bursts into both colour and music on this day.
National Day of Prayer – 3rd November National Day Parade – Roseau, 4th November Cultural Gala -Festival City, Roseau, 4th November. National Day of Community Service – 5th November, islandwide Street Jump-up – 5th November, islandwide, 6pm – 11pm
The creole wear:
Muchwe /Madwas
Tete maw'e
Gard zowei
Mouche vanille
Chemis decollette'e
Portes bonheur
Jupe
Jupon /cotillon

Foulard (yoncot'e)
You can purchase your Creole wear securely  at http://dressdominique.com